Hi everybody! Jon here, one of the owners/innkeepers at the Old Caledonian (my wife, Penny, completes the team).
As an executive chef for over two decades food was, obviously, a huge consideration when we decided to open the Old Caledonian. Now that we are in full operation, the fact that we are located in some serious farm country makes the prospect of using locally sourced products an exciting benefit to our menus. Each week I hit farmers' markets, vegetable stands and individual producers to procure produce, eggs—even locally grown grits—for our kitchen. It's our way of not only offering great, quality food, but also supporting our community. It's a delicious responsibility we are proud to take seriously.
One item that has been near and dear to my heart for years is heritage pork. The larger pork producers in the USA have, over the course of decades, created a pig that grows fast, is generally palatable to most Americans (read: bland), and uses facilities for farming that, for a pig, makes for a generally stressful and unhappy life.
So I am less interested in using conventional pork for our bacon, sausage and ham here at the Old Caledonian.
Heritage breed pigs are, literally, a whole other animal. They are kind of like the heirloom tomatoes of meat in that, like heirloom tomatoes, they are from more ancient stock—older lines that have not had the flavor bred out of them. Plus, they might be oddly shaped or colored in comparison to more conventional/recognizable types, and take longer to grow. Oh, and like heirloom tomatoes, they cost considerably more per pound. They are also usually fed differently and require a bit more care and attention than commercial products. As such, much like heirloom tomatoes, you won't find heritage breed pigs in the supermarket with big producer names stamped on the labels. If you want these pigs, you have to get yourself to a pig farm.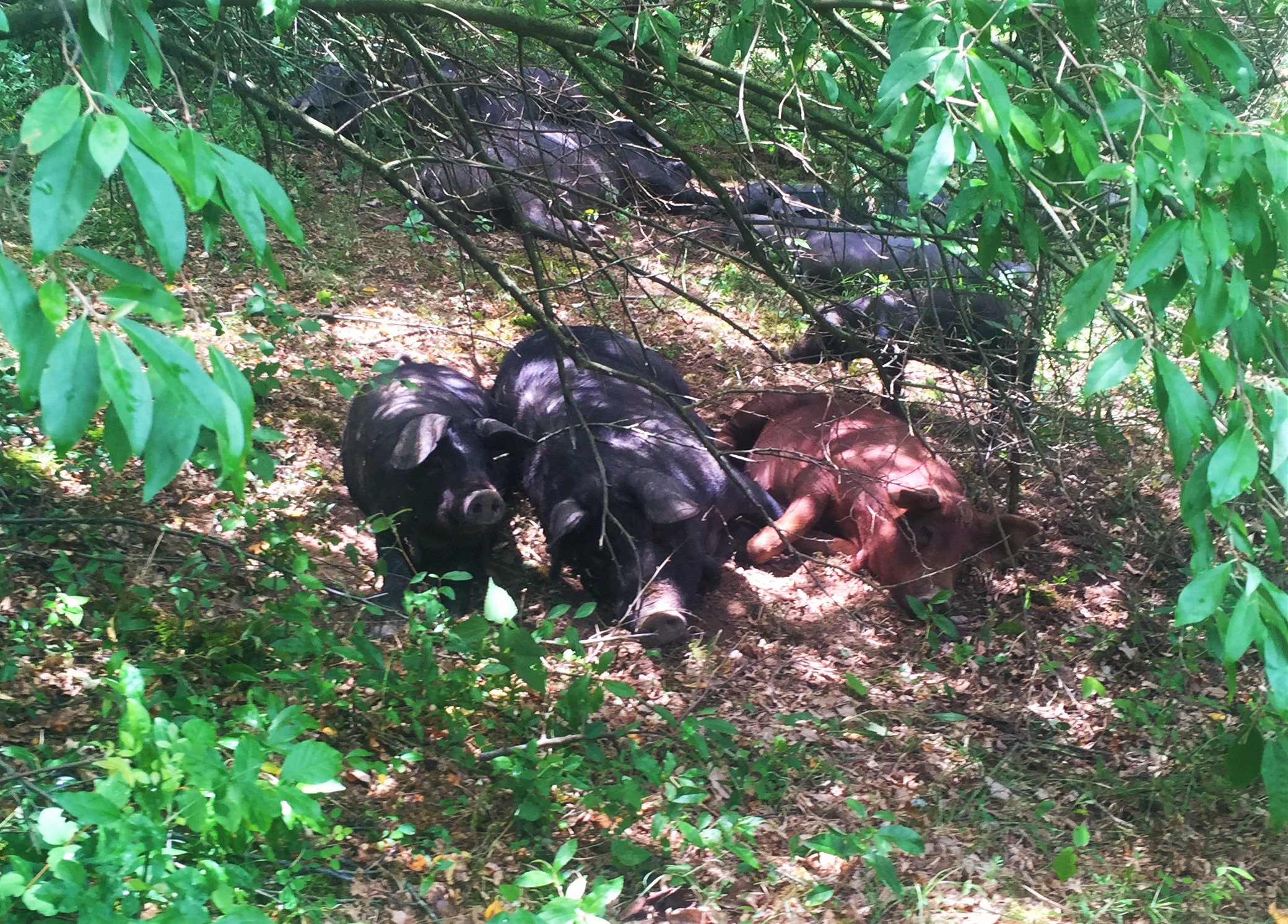 Well, I want these pigs because when you have a happy, well fed and well cared for pig, you can taste all of the happiness and care in the meat, especially in the fat (either the outer fat, like the fat along the outside of a steak; or the intra-muscular fat, i.e. marbling). If you think that sounds far-fetched just ask any chef who uses heritage pork and I'm sure they would absolutely agree. This is why there are entire events and campaigns, such as Cochon 555 (which I have been privileged to have judged) and Slow Meat (a division of Slow Food USA) that focus on the support and usage of heritage pork.
I had done some research prior to our opening in regards to farms that produced heritage pork in our area. I had made several inquiries via email and phone to a few producers, all within 100 miles of our inn. One of those farms, Meadowlark Farms in Owensville, MO, followed up with me several times inviting me to check them out. They had a herd of several dozen pigs, and had recently bought the entire stock of nearly 100 pigs from another farm I had researched, The Nutty Pig, previously located in Viburnum, MO. They enthusiastically wanted my business, even providing me with samples, and that goes a long way with me. So, I made arrangements with Amy, who runs the farm along with her husband, Eric, to get out to see their place and meet their pigs. I wanted to see for myself how the pigs were raised, what they ate and, yes, how happy they were (because, as mentioned above, happy pigs = tasty pigs). So on a warm June day I made my way up to Meadowlark.
The farm is spread out over 57 acres and includes the quaint farm house, green corn fields, sunlit pig pens and, I was excited to see, fenced in areas of forest where pigs could forage for acorns, walnuts, native grasses and plants. When I saw pigs in the woods, I saw added flavor via the foraged nourishment as well as the happy atmosphere. The pigs were loving it, and so was I.
The pigs themselves were primarily three breeds: red wattles (so called due to a fleshy, hanging protrusion on both jowls), large blacks, and a cross between the two which Meadowlark calls black wattles. Red wattles are known for having very flavorful, almost beefy meat; and large blacks for their tender meat and exceptional bacon. A black wattle sounded appealing to me for my needs because it would be only natural to assume that one might inherit the better qualities of each parent.
So, by the time I left the farm I had asked Amy and Eric to keep me posted when a black wattle became available and for them to keep in touch. It was a fun day at the farm.
About a week later Amy contacted me and let me know they would be taking a group of their pigs to the processor and they could have a half black wattle delivered to me the following week. So, that's what we did.
I taught butchery classes for an organization called the Rocky Mountain Institute of Meat (led by my friend and oft-times collaborator Jason Nauert) for several years. So when Amy asked me if I wanted the hog butchered at the processor I took a pass; I would rather do it myself. I did, however, opt for the USDA inspection.
When I get in meat, particularly whole beasts, I don't like to waste anything. So when I butcher, I make sure I cut in order to make maximum usage of the animal: meat, bones, organs, skin, etc. As the saying goes, everything but the squeal. So when that half-pig got delivered, I got to work.
This first half we received from Meadowlark weighed out at about 140 lbs. Amy also provided me with the liver, heart, kidneys and tongue of the pig.
I first cut the half into its four primal portions: shoulder (butt), loin, belly and ham. Then I broke down each primal into the cuts I wanted to use.
The entire shoulder (which can be further broken down into the shoulder-butt and picnic ham) went toward sausage, which I grind, season and then either stuff or make into patties. For the belly, I removed all of the bones (sorry spare-rib lovers), and set it to cure for bacon. The ham also had its bones removed, then the meat was separated into smaller pieces (on a beef these would include the top round, bottom round, eye of round and knuckle), and then those were cured for ham.
The loin was made into chops—ribeyes, t-bones and porterhouses—for our famous private dinners which our guests may arrange with us to enjoy during their stays.
The rest of the pig I used as appropriate: stock was made from the bones for use in our sauces and country gravies, hocks were cured and smoked and the offal (organs) used for pates (for our afternoon teatimes), brawn (headcheese—for guests that wish to try it) and for my own dinner that night (because it's my pig and I can eat its kidneys if I want).
Fast forward ten days and the bacon and ham were ready for the smoker. They turned out lovely, as you can see in the photos.
We try our best to be good stewards of the community here at the Old Caledonian, both in terms of the responsible choices we try to make in regards to food we choose and where we get it. Then of course, we prepare it with care and consideration of maximum deliciousness for the satisfaction of our guests; and, in the case of our pigs, to respect the fact that this beautiful animal was lovingly grown and harvested for our use.
Thanks for reading our blog this time around! Hope to see you here at the Old Caledonian Bed & Breakfast soon. We'll keep the bacon crisp for ya.
Cheers– Jon